The ideal robotic milking barn optimizes cow comfort. Larry Stap of Twin Brook Creamery says cow comfort is important in his operation that includes a milk processing facility. The Lely Luna has helped their herd become more productive and in his opinion, longer-lived.
"Comfortable cows make productive cows," said Stap. "You always have to be thinking of new technology."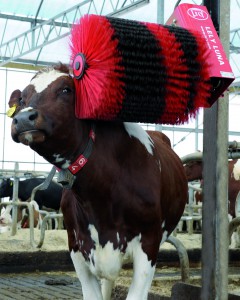 The Lely Luna cow brush is designed to groom cows, enabling them to get rid of uncomfortable dust and itches. The result is a happier, healthier and more productive herd.
Suitable for short–haired cows older than one year, the Lely Luna design enables the brush to be driven by touch, which then rotates in the opposite direction once the cow pushes against it. This ensures maximum comfort for the cow and a longer brush lifetime. A minimum of moving parts means low maintenance. The Lely Luna cow brush has spirally positioned bristles of variable thickness for maximum comfort.
Once installed, it's important to regularly check the Lely Luna cow brush to ensure an optimal lifetime.
A weekly check is recommended:
Make sure the brush is clean and free of damage
When the diameter of the brush is less than 30 cm (12 inches), it should be replaced
Make sure ventilation openings in the motor housing are clear and clean
Examine the gearbox for oil leaks
The Lely Luna cow brush is delivered as one part and can easily be installed on a post or against the wall.
See more on the Lely Luna Cow Brush in this video at Sweet Farms.