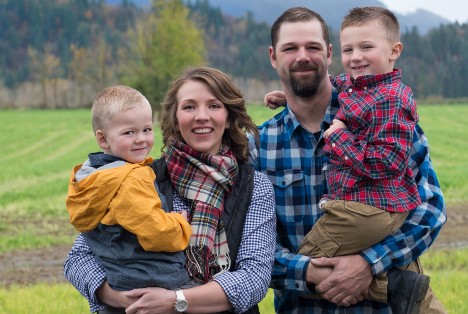 Sarah Sache is secretary of West River Farm Ltd. in Rosedale, British Columbia, Canada. She's an active advocate for agriculture and Canadian dairy, and a frequent instagrammer (@dairysecretary). We asked her to tell us a little about a day in their life with Lely robots.
It's 7:15 a.m., and three pairs of feet slip into three waiting pairs of rubber boots. The pockets of my coveralls packed with kiddie snacks and my smartphone, I'm off the barn with my two young sons, Winston (6) and Curtis (4). On Sundays we are the help on our family farm.
We step out of the garage and the rhythmic sound of milking robots carries on the early morning air. It's been almost a year since our farm made the switch to the Lely Astronaut robotic milking system and the wonder of hearing cows being milked before arriving to the barn has not grown old.
The boys run ahead and make a quick loop past the calving pen.
"928's not here yet, Mum."
They keep close track of what heifer calf we are expecting next.
We stop by the office where my husband, Gene, already has the coffee on. I pour myself half a cup and drink it quickly before helping the kids find Dad. He's out raking stalls, cleaning crossovers and motivating a short list of fetch cows. Winston joins him in the herd, happily singing along to the radio "Huntin', Fishin' Lovin' Every Day…" There is always music and Winston knows all the words.
Curtis and I start washing robots.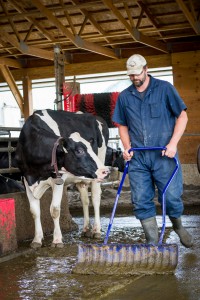 "Can I press PLAY, Mum? Can I? Can I pause it? Can I loosen the cups? Do you think today maybe I can move the arm? Can I?"
I lift him up to the screen and he carefully presses the stop, then I hand him an apple and he stands in the doorway eating it while I wash Robot 1. We continue on through Robots 2 and 3, and when the apple is finally gone I boost him up again and let him move the robot arm to home. The two of us go feed calves and heifers before meeting the others back at the main barn just in time to watch them dump their final load of feed to the milk cows.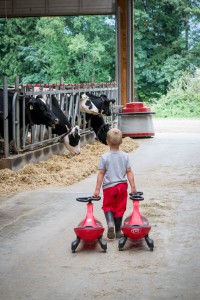 As we're finishing up, the boys get out their plasma cars and enjoy racing up and down the feed alley together.
"Mum, look! I see 605! See her?! She's right there! She's getting brushed!"
They've spotted a favorite cow enjoying a Lely Luna. I snap a picture and Instagram it.
"Watching a favorite girl enjoy a morning scratch. #farmkids #familyfarm #dairyfarm #lelyluna #cowcomfort # cowsofinstagram #animalcare #livelifelely #sundaymorning #supportlocal #local #localfood #100canadianmilk."
The Juno beeps, signaling it's about to begin its first pass of the day and the boys quickly park their cars and clear the way. It's time to go in for breakfast and get on with the rest of our day. We'll all be back out again for afternoon chores at 3:30 p.m.
This is our Lely life, and we just love it.
For more information about the farm and equipment, visit http://www.westcoastrobotics.ca/#!west-river-farm/fjlrv.