Lely is proud to announce the new 2016 Future of Dairy Scholarship Program that will be awarded annually.
Five qua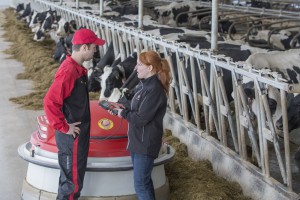 lified students residing in Canada will be awarded a one-year, $1,000 scholarship. Students must be at least 18 years old and currently enrolled at an accredited junior college, college, university, or graduate school. The student must also be registered in a program that can equip them to contribute to the dairy industry and be current or previous members of the 4-H. A full list of requirements can be found at www.lelyna.com/scholarships.
"Today's youth have the fortune to make an impact in an industry of real opportunity," said Peter Langebeeke, President of Lely North America. "Tomorrow's employee may have dairy experience on their resume, yet it's not a requirement to enjoy a successful career at Lely. We look for a variety of skill sets and want to help students achieve their academic goals through scholarships."
To apply, students should visit www.lelyna.com/scholarships and complete the application form.
Students need to submit an essay response (500-700 words) to the question, "How will automated milking and feeding equipment impact the future of the dairy industry?"
In addition, applicants need:
A 1-2 page personal resume depicting their previous leadership/organizational involvement
A letter of recommendation from their 4-H advisor
A letter of recommendation from an academic advisor
Scholarship submissions will be accepted starting September 1, 2016. The deadline for application is October 1, 2016, at 11:59 pm CST. Winners will be notified on or before November 15, 2016, by way of an email or phone call.