For nearly 80 years, June Dairy Month has been an annual tradition that celebrates the contributions of the dairy industry and promotes nutrient-rich dairy foods at the start of the summer.
This year, Lely North America is celebrating Dairy Month and the future of this great industry by establishing the new 2016 Future of Dairy Scholarship Program that will be awarded annually. Five qualified students residing in the United States will be awarded a one-year, $1,000 scholarship.
"The future of the dairy industry depends on the development of a solid group of experts entering the industry," said Peter Langebeeke, President of Lely North America. "The Lely North America Future Dairy Scholarship program provides support to those who will help build the future of the industry.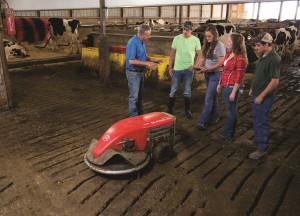 "June Dairy Month is about recognizing individuals who make this industry strong," Langebeeke said. "Lely is excited to offer these scholarships to the hard-working students who are the future."
To apply for the scholarship, students must be at least 18 years old and enrolled at an accredited junior college, college, university, or graduate school, in a program that can equip the student to contribute to the dairy industry.
Students must also be current or previous members of the 4-H or FFA organizations.
Bellana Putz, customer sales support manager for Lely North America, said she was a member of 4H for nine years.
"I feel very strongly that there is no other youth program that offers such a variety of activities to mold and nurture the life skills that create servant-leaders who can build, fix, grow, teach and feed themselves and the world," she said.
To apply and for a full list of requirements, students should visit http://www.lelyna.com/scholarshipsand complete the application form. Students need to submit an essay response (500-700 words) to the question "How will automated milking and feeding equipment impact the future of the dairy industry?"
The deadline for application is July 1, 2016, at 11:59 pm CST. Winners will be notified on or before August 15, 2016, by way of an email or phone call.