Most benchmarking values revolve around grouped variables, such as herd size or geographic region, but a recent study published in the Journal of Dairy Science implemented a new approach to benchmarking called Cluster Analysis. This form of benchmarking is used to automatically generate peer groups of farms for a better comparison, one that can account for several different variables known to affect how farms perform.
Comparing your farm to one from your peer group is the best way to get valuable information, consider your strengths and what you may need to improve upon.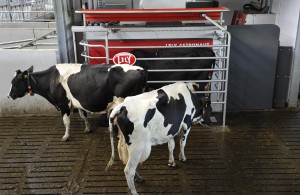 The study used a Cluster Analysis to develop six peer groups in North American Lely robotic milking farms, each with unique characteristics such as production level, robot visit behavior, feed allowance, location, type of facility and when the farm first began robotic milking.
By separating farms into different clusters, characteristics can be defined and customized advice can be given to benefit each farm within its cluster. The clusters also allow for comparisons among peer groups, which the study found to be more accurate than comparing two farms that may only have a few similarities, such as geographic location.
This approach allows producers and their advisors to set more realistic goals.
Types of Clusters Identified in Research
The characteristics of clusters lend to customized advice for each group. For example:
Cluster 1 includes farms with recently installed automatic milking systems that need to identify cows best suited for robotic milking
Cluster 2 includes farms that were low-producing and utilized Jersey herds with forced traffic systems. These farms can consider free-cow traffic and should evaluate their feed allowance and robot settings to maximize production.
Cluster 3 includes farms that have the northern-most, colder location herds that could consider adding separate automated feeding stations outside of the robot.
Cluster 4 includes farms with only one robot per pen and could consider removing individual cows that are not a good fit for robotic milking.
Cluster 5 includes top-producing Midwestern farms that should focus on making small adjustments such as decreasing failures in order to keep improving milk production.
Cluster 6 includes farms in Canada with milk quotas and can decide to optimize the efficiency of milk production with the lower cow numbers.
To review the research abstract, visit the Journal of Dairy Science or read this Progressive Dairyman article.