For years, Lely has said free cow traffic contributes to cow comfort, which, in-turn, increases milk production. Now, research from the University of Wisconsin provides data to back this up.
The research, completed by Marlene Tremblay, Justin Hess, Brock Christenson, Kolby McIntyre, Ben Smink, Arjen van der Kamp, Lisanne de Jong and Dorte Dopfer, and published in the Journal of Dairy Science 2016, says cows in free cow traffic robot systems give about 1 kg, or 2.2 lbs, of milk per cow per day more than guided or forced cow traffic.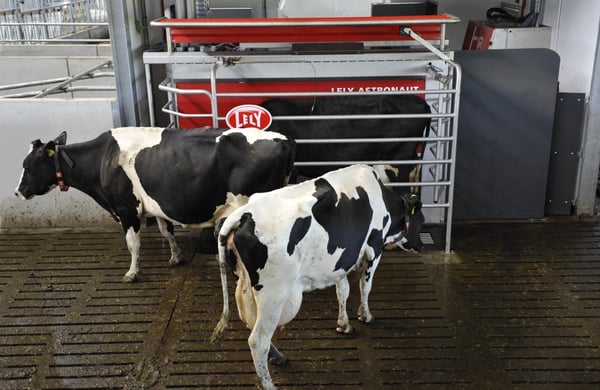 Previously, few studies examined the relationship between traffic type and milk yield, but the ones that did were limited in sample size and did not offer a clear consensus. This study, which covered 635 robot farms in North America, analyzed more than 71,000 weekly observations to find optimal situations for robot herds amongst current owners. The data, paired with farm specifics, such as breed, geographic location and pen size and other variables, found that several factors were contributed to increased milk production.
The researchers found that the presence of a single robot per pen was associated with decreased milk production per robot per day when compared with pens using two or more robots per pen. The pens using two robots averaged 60 kg, or 132.3 lbs, of milk per robot per day more than pens with one robot.
To read the see more information on the Journal of Dairy Science article, go to http://www.journalofdairyscience.org/article/S0022-0302(16)00156-9/abstract