Brad and Dean Luettel and their mother, Ruth, transitioned from a stanchion barn last year to a new facility with two Lely Astronaut A4 automated milking systems for use with 128 cows.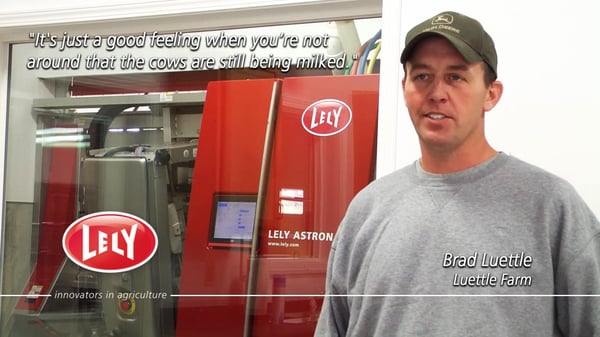 In making their decision to build their new barn and equip it with robots, the Luettels, who milk Holsteins cows near Adrian, Minnesota, worked closely with Gorter's Clay and Dairy, their local Lely Center.
"We initially looked into a parlor and weighed our options," said Brad Luettel. "We met with Gorter's and they showed us several different barns in the area. Together, we discussed the costs as well as the labor savings we would experience with robots. Gorter's was very helpful and we know that many dairy operations in the area rely on them."
Before converting to robots, the Luettels worked with Gorter's, a nutritionist and a veterinarian. The start-up team provided guidance for daily routines, recommendations on everything from feed to hoof care and developed a transition plan for their operation.
Brad Luettel said, during the past year, Gorter's provided support when they needed it. When Brad once needed help at 3 a.m. he called his Lely Center support team and they were able to help him solve his problem.
"Whenever we have a question or need help, even in the evenings or weekends, we can always reach someone and usually they can assist us over the phone," said Brad Luettel. "However, they are also always willing to come in person if needed. It's been very important to us that we can turn to our local Lely Center and they can coach us along the way."
See more on the Luettel Dairy.