Two years ago, Curtis Nolan was sure renovating the milking parlor was the next step for Kenyon Hill Farm, his family's dairy located in northeastern
New York.
Then he learned about Lely's automated milking system.
"We weren't even thinking about robots initially," Curtis said. "After learning more about robots and seeing robot barns we stopped thinking we would renovate the parlor."
Kenyon Hill Farm, operated by Curtis, his dad, Mike, and his brothers, Shane and Ryan, started milking with four Astronaut A4 automated milking systems in September 2015. In addition to the A4, Kenyon Hill also utilizes a Juno automatic feed pusher and Luna brushes.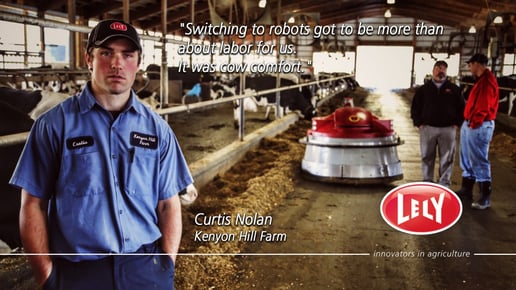 Paul Godin, from their local Lely Center, Lely Center Vermont, initially introduced the family to automatic milking as an option to manage labor. However, the family quickly realized free flow traffic and voluntary milking could improve cow comfort as well.
"When we visited robot barns, we could tell a difference right away. It was so calm and quiet," Curtis said. "If a cow can be lying down or eating, she's better off than standing waiting to be milked. That's a big difference."
Lely Center Vermont provided guidance from the beginning, helping the Nolans determine the best layout for retrofitting their barn. During start-up, the Lely Center Vermont team remained on-site, 24 hours a day, for the first three days, which provided some relief to the Nolans as they continued to milk approximately half the herd in the parlor.
The Nolans continue to receive support from Lely Center Vermont and also work with FMS team member Sara McBurney, who provides guidance through webinars and phone calls. Both teams answer questions and offer tips to help Kenyon Hill Farm achieve their goals.
In addition to improved cow comfort, Curtis said the information gathered from the rumination and activity tags is helping be more precise in the best time to breed. Prior to having that information at his fingertips through the Lely T4C, he would typically breed in the afternoon after noticing a cow in heat during morning chores.
"I learned I am breeding cows later than I should have," Curtis said. "T4C helps me determine the optimal time for breeding, which is helpful."
Between the Lely Center Vermont, the FMS team and the Lely T4C, Kenyon Hill Farm is finding new and exciting ways to better manage their herd and improve their lives.
See more on Kenyon Hill Farm.