Temperatures dropping outside and inside the barn create issues with frozen water hoses, cords, water troughs and, in some cases, frostbite for cows' teats. All of these issues will affect your cows' visits to the robot and yield and, last but not least, your own (unplanned) workload and efficiency.
Daan Stehouwer, a Lely master product specialist, says, "Although we strongly advise to keep the robot in a frost-free environment, they have shown to be capable of milking in colder environments if they have continuous visits and alarms are attended to promptly. If alarms occur, act upon them promptly so the system does not shut down."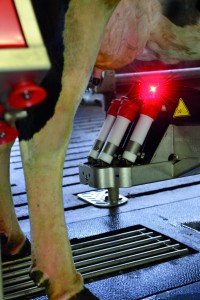 Stehouwer says sometimes the first things to freeze up are the ropes underneath the robot arm during milking, as they can be exposed to cold winds.
If possible, prevent the rope exposure to freezing cold by pumping warm air over pressure from the milking, cooling or compressor room to the robot room. If this air can be blown underneath the cow and the robot arm when the rest of the room is sealed, that will prevent freezing
In addition, keep the ropes greasy and keep water out of them by soaking them in silicone spray or Vaseline," Stehouwer says.
In some cases installing freezer curtains around the robot to create a warm air pocket around the robot can be a good solution.
"This resolves all issues but the cows need to get used to it and it requires construction," Stehouwer says.
Other tips include:
Chose a teat dip that has additional skin conditioners to protect the cows' teats from little cracks and frost damage.
Adjust the automatic ventilation control and put fan covers on to make sure barn curtains are in good shape.
Overall, think in advance about any mechanical issues that could occur on your farm in wintertime, and act proactively. For more information on Lely products visit www.lely.com/us