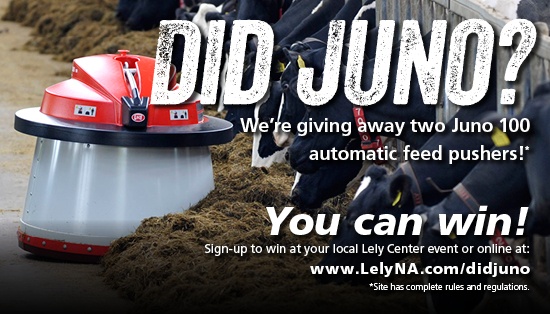 We're giving away two Lely Juno 100 feed pushers – one in the United States and one in Canada! Sign up to win at your local Lely Center event or online at www.lelyna.com/didjuno
24/7 availability of fresh feed with less labor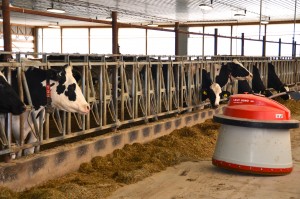 It's well known that continuous availability of fresh feed results in increased dry matter intake and increased milk production. The Juno moves along the feeding alley automatically, following the feed bunk. The machine pushes the feed toward the feed bunk without disturbing the cows. Since the Juno is a stand-alone machine, barn modifications are seldom required; it can be used in almost any type of barn.
In a Lely research study, 100 Juno customers were polled to ask if they considered the Juno to be a farm luxury or a necessary part of their operation.
Results found:
The Juno saved an average of 25 minutes of labor per day, 152 hours annually.

Pushing feed via tractor or skid loader expended 22.8 times more energy per year than the Juno which pushed feed three or four times more per day.

Labor savings resulted in more than $2,400 (USD) annually.

Average milk production increases occurred.

Payback time averaged three to four years for producers experiencing labor and fuel savings.

Payback time averaged one to two years for producers experiencing labor and fuel savings and production increases.
Sign up to win Lely Juno 100 www.lelyna.com/didjuno