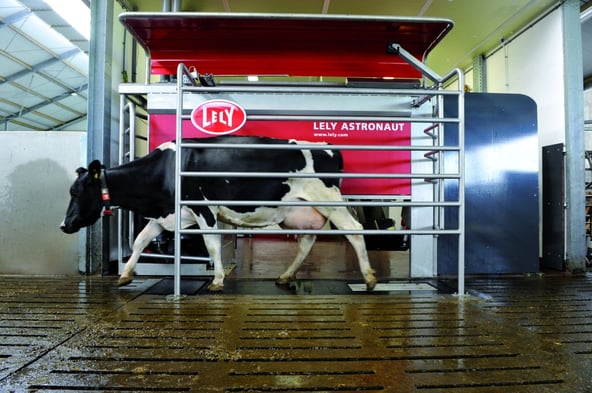 Martha Blum with AgriNews recently wrote about the many benefits of adding the robotic milking system to the farm. Read an excerpt below or the entire article here.
ALBERS, Ill. — Significant changes have been made to the Arentsen Dairy Farm, which has been operated by the family for several generations.
"I'm the third-generation Arentsen farming here and Phillip is the fourth," said Jerry Arentsen, who farms together with his son, Phillip. "We milk about 140 cows and we farm about 500 acres."
In April 2014, the dairymen switched to milking their herd with two Lely robotic machines.
"This morning the cows are at 69.5 pounds of milk, and they are averaging 2.8 milkings per day," Arentsen said during the Dairy Technology Showcase, hosted by the Illinois Milk Producers' Association.
As the cows go through the Lely milking system, the system provides lots of information to the dairymen.
"The Lely has a scale, so it tells you how much the cow weighs," the dairyman explained. "And it gives you all kinds of information, like how much milk each quarter gives and total time in the stall,"
For the fresh cows, the robot is set so the milk flows into buckets.
"The milk goes into the buckets for the first two days after a cow is fresh, and we keep that milk for the calves," Arentsen said.
Robot Calling
When there is any problem with the robot, it will call Arentsen's cell phone.
"It keeps calling until it gets someone's attention," he said. "I don't get too many calls. Usually it is something minor like a hose has been kicked off."
For treated cows, the information is entered into the computer, and the robot will dump the milk automatically. Once the cow leaves the stall, the robot will do a local wash of the machine.
Labor savings is one of the many benefits of adding the robotic milking system to the farm, Arentsen said.
Read the entire article here.