Lisa Rathke with the Associated Press writes on small and medium-sized dairy farms adding robotic milkers. Read an excerpt below or the entire article here.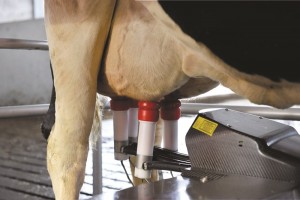 GRANITEVILLE — Robots have taken up residence at some small- and medium-sized dairy farms across the country, providing reliable and more efficient labor and helping the businesses remain viable. Plus, farmers say, the milking technology makes for happier, more productive cows.
Dairy operations here and abroad have used robotic milkers for more than a decade. But with more manufacturers and dealerships emerging the U.S., the number of smaller farms in Iowa with the technology has doubled over the last two years, from roughly 20 to more than 40, and family farms in the Northeast also are plugging in.
The cost of not automating the milking process may be greater for some farmers than shelling out hundreds of thousands of dollars, experts say. The technology supplants paying for hard-to-find and migrant labor, creates time for other farm duties and collects vital data about the animals. Perhaps most of all, it boosts the number of gallons of milk being produced because cows get milked when and as often as they want, though it doesn't affect consumer milk prices.
The reason robots might make sense for many small- and medium-sized farms in the Northeast is because of the challenge of finding reliable workers and outdated infrastructure that makes the operations inefficient, said Richard Kersbergen with the University of Maine Extension.
"There's a lot of farmers that are interested but are concerned about the financial costs with it," noted Kersbergen, who just returned from studying farms in the Netherlands, where he said more than half used robotic milkers because of high labor costs.