As the summer draws to a close and school is about ready to resume for our three summer interns they have taken the time to reflect on their time with Lely. They offer tips to future interns and discuss reflections on what they have learned during their time with Lely.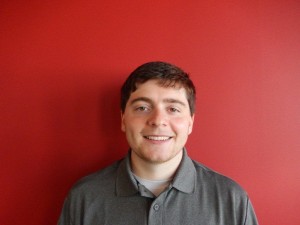 E.J. Schroeder – E.J. was the accounting intern for the summer. He grew up in the city and never gave much thought to the dairy or agricultural industries. This experience was completely new to him and he found every day to be interesting. He says the most intriguing thing about the industry is the evolution and innovation of the dairy world. E.J. is amazed that the dairy industry started with hand milking and has grown to a fully automated milking and feeding system. His advice to future Lely interns is to remember that Lely is a friendly and enjoyable place to work; everyone treats you as if you have been there for years. "You will learn something new every day and will have the opportunity to help many different departments instead of being boxed into one department," says E.J. "This allows interns to gain a well-rounded business insight and test the waters in different areas, which also pushes you to get out of you comfort zone and apply yourself." E.J.'s experience at Lely has really solidified his desire to be an accountant. One of the reasons he accepted the internship was to experience the accounting world and determine if that was really where he wanted to do with his life. He has also noticed that he now pays attention to dairy farms when he drives down the road and finds himself wondering how they are managing their dairy operation. E.J. has also learned about the Lely product line and how robots increase customer's quality of life.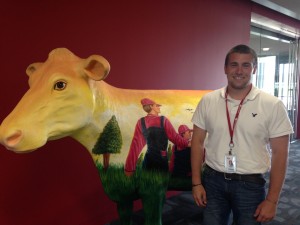 Xavier Drake – Xavier worked with the marketing department for the summer. Xavier grew up on a farm in North-Central Iowa and dealt with crops and hogs. The dairy industry was new to him and he says that he learned something every day. What he enjoys most about the dairy industry after being involved with it is the love and care the farmers have for animals. Dairy producers understand increasing cow comfort increases milk production and quality. Xavier says that anyone involved in the Ag industry helps put food on people's plates and he takes great pride in that. His recommendation to future interns is to come in with an open mind ready to learn. "In this particular work place you will have the opportunity to be involved with many different projects that will have you working with people from many different departments," says Xavier, "This internship is fast-paced and can really be what you decide to make of it and the availability of knowledge you have access to within the organization is infinite and you can either choose to take advantage of it or not." Xavier says this experience has taught him the importance of organizational skills. He balanced many different projects at once and learned that if you don't have an organizational process in place things can fall through the cracks. The internship also helped him to further develop his communication skills amongst many different types of people including customers and co-workers. Xavier learned about Lely products for the first time during his time with the company. He says that the greatest impact their products have on their customers is improving their quality of life.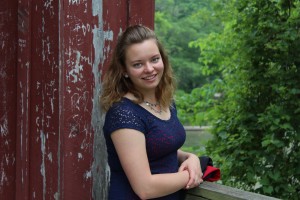 Stephanie Heindl – Stephanie served as a Farm Management Support intern for the summer. She says agriculture is a way of life and our society's wisest pursuit. Stephanie says that in the end, agriculture contributes most to increasing real/sustainable wealth, a good moral structure and true happiness. Stephanie speaks highly of Lely saying that it is a great company. She tells future interns that the work environment is very friendly and coworkers make you feel at home when you are around them. Lely knows quality when they see it when it comes to their products and staff. Each department collaborates with one another making this organization feel like it truly is one team, which is something that doesn't happen everywhere. Stephanie says this experience has helped her to build her overall business knowledge and become a better people person. She gained a greater understanding of herself and others by communicating with a diverse group of personalities and industry professionals. The experience helped her to understand which career path she would like to take within the dairy industry. Stephanie interacted with many Lely customers during her internship and saw firsthand how the Lely products impact their owners. She says these quality products give owners the confidence to reinvest in Lely to better their farms.