Jennifer Carrico with High Plains Journal has featured Brad and Monica Nussbaum of South Dakota who built a dairy barn with two Lely robots. Read an excerpt below from the feature or read the entire article here.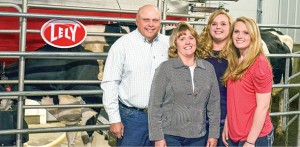 Using robots sounds like something out of an episode of "The Jetsons," but it's reality for dairy producers around the world.
Brad and Monica Nussbaum of Garretson, South Dakota, knew they needed to make changes to their dairy, and after considering many options, they decided to build a barn equipped with two robot milkers and a robot to push feed up for the cows.
They decided this would be the perfect fit for the family farm run by Brad, Monica and their two daughters, Stephanie and Brittany.
"We visited all kinds of dairies and decided this was our best option," said Monica. "Our daughter, Brittany, had toured several robot barns in Europe and thought they would work for us. We wanted it to be a one-man or woman barn, since there's three of us women working here."
Once they decided to build a barn with robot milking, they had to look at every detail, which included where to build the barn.
"We wanted to make sure we had the barn in the right spot to ensure the air would move through it and our cows would be comfortable," said Brad.
Monica explained how she, Brad, Stephanie and Brittany were each given a wind spinner to find where the best air movement was in the area where they planned to put the barn. It ended up that where they all stopped is now the four corners of the barn.
"I'm sure building engineers wouldn't have done it the way we did, but we are definitely pleased with the results," said Monica. "And the cows are too."
The construction of the barn wasn't completed quite as quickly as they had hoped, which resulted in more movement of cows at first, but now the cows are in comfort in the barn that includes waterbed stalls.
The Nussbaums started milking their 145 cows in March 2014. Prior to having the robots they milked about 90 cows in a stall barn.
"When we decided to build this barn, we ramped up our herd by purchasing some heifers and breeding cows to female semen," said Brad.
The barn has a slatted floor and sets on a cement pit. When the pit is emptied, the manure is used for fertilizer on their crop ground. Brad said the quality of the manure fertilizer is better than if they would have built a lagoon because none of the manure soaks into the ground since it's in a cement pit.
Read the full feature in the June 15 issue of High Plains Journal.