WAOW News in north central Wisconsin celebrated June Dairy Month this week by visiting Misty Hollow Farms near Athens which added a Lely Astronaut automatic milking system to their dairy a couple years ago. See the news segment by clicking here.
Below is an excerpt from the segment.
This month we are celebrating an industry that brings so much to the Badger State -- dairy!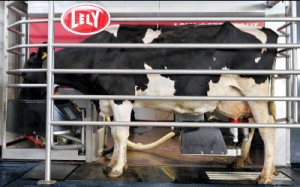 According to the Wisconsin Department of Agriculture, there are more than a million cows in Wisconsin.
Misty Hollow Farms in Athens is home to 150 of them.
The family-run farm puts out about 5,000 pounds of milk a day, something owners there say they're proud of accomplishing.
"It's Wisconsin's number one ag industry, we are the number two milk producing state in the country," said Eric Vogel the owner of Misty Hollow Farmers. "What we can do to provide to other citizens of the country is a joy to us."
Just in Wisconsin alone, dairy farmers bring in $43 billion to the state.