Jane Lethlean with The (Freeport) Journal-Standard recently wrote about the Lawfer family of Kent, Ill. who recently converted to Lely automatic robotic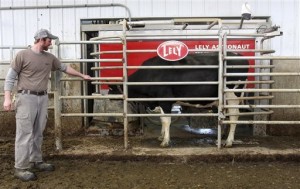 milking systems.
John Lawfer, the 29-year old who joined the family operation, heads to the barn each more but instead of going to the milking parlor, he heads to his office. He calls up a program on his computer to check on the overnight data for milk production of the 115-head herd that has been milked overnight.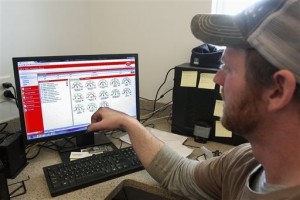 The milking operation at the Lawfer family farm, which includes his father, Ron, and mother, Julie, has gone high tech. The cows are milking themselves. It's an around-the-clock daily milking operation that has seen production increase since December when they added a robotic milking system.
Read this excerpt below or the entire article here.
The new way of milking allows these farmers to spend more time taking care of the herd, without the worry of making sure cows were milked twice a day. With this operation, the cows milk themselves, sometime three to five times a day. The computer collar each cow wears monitors data. If the cow is not to be milked once it steps into the robotic chute, it will be kicked out for the next cow to be milked.
"This is not for everyone, but what this allows is for good managers of a herd to be great managers to get that extra pound of milk," John said. "But it goes beyond the milk; it really comes down to the comfort of the cow. We are dealing with a living creature, and there is a gift to the robotic arm way of milking, which allows for a more content cow. And this herd is so much more laid back, because they milk when they need to milk, and they don't have to wait for us to do it for them."
The Lawfer farm is a family operation that dates back three generations. When Ron and Julie learned John wanted to become a part of a tradition of dairy farmers, they began to brainstorm to update the farm to accommodate changes in the industry.