In a recent issue of Wisconsin State Farmer, Gloria Hafemeister writes about Andy Jaworski who returned to the family farm to operate an organic dairy operation. He decided to incorporate a Lely robot automatic milking system. Read the except below or the entire article here.
Using the robot
Jaworski is happ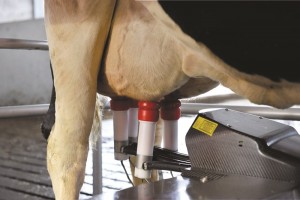 y he went with the robotic milking because his daily schedule doesn't revolve around milking, but he also says, "It's not a perfect system and you need to accept that."
He said a big advantage to the system is the data that is collected about each cow on a daily basis.
"It's more information to digest, and you need to be able to learn to use the data to make it useful," Jaworski said.
He said having all this information encourages creativity.
As an example, Jaworski pointed to a report of a cow that was not getting milk flow in one quarter. The report on his computer screen indicated, "Failed right quarter."
He decided to intervene by pushing the button that says, "prolong milking." He detached the unit that was the problem and stripped that quarter manually and then pushed the button, "manually succeed."
While he isn't tied to a milking schedule, he said, "You always need someone who can respond to a call from the robot at any time. The robot will call when any problem occurs."
According to Jaworski, most calls are for minor things. Often the calls come during the wash cycle. He believes this is because the USDA code for cleaning milking equipment is stricter than the European code so sensors detect problems and call more often. The problem is minor, but the system needs to be reset.
Read the entire article here.