Read from The Western Star about David and Sara Simmons and Pure Holsteins dairy.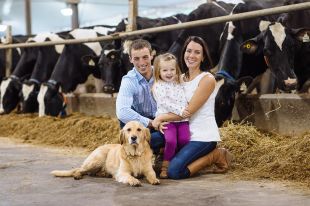 Being named Atlantic Outstanding Young Farmers for 2015 is recognition of what David and Sara Simmons have accomplished since launching their Pure Holsteins dairy farm in 2011. David and Sara were presented with the award, part of the Canada's Outstanding Young Farmers Program, during a banquet in Moncton, N.B, this past Friday. The award is handed out based on production history, business management and community involvement.
"The biggest thing that brought Sara and I forward was our production history," said David, 32, on Monday. "The changes that we've made, the increases we've been able to achieve since we've taken over management of the farm and since then purchased the dairy."
The Simmons have two Lely robots. Read more about the Simmons' recognition.