We (Lely) had a proud moment this morning when we read a moving piece by one of our Lely robotic milking ambassadors. This young lady belongs to a dairy family in Northeast Iowa that recently transitioned to milking with six A4 Astronauts. However, there is a spin to this story because she also works as Northeast Iowa Dairy Foundation's Coordinator in Calmar, IA, where she assisted with the startup of the program's robot barn, which included the installation of two A4 Astronauts about a year ago.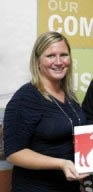 Read a column in Dairy Herd Management by Megan Kregel, Dairy Center Coordinator for the Northeast Iowa Dairy Foundation in Calmar, Iowa.
YOUNG FARMER: THE ROBOTIC GENERATION
Friday

,
December
5

th

,
2014
First, a disclaimer: I am no expert on automatic milking systems (AMS); all I can do is relate my experiences to you and hope you enjoy my story.
Dairying has always been part of my life, even since before I could walk. I believe that my love for agriculture is in my blood. Growing up as the sixth generation on our family farm was a privilege. Granted, it wasn't always easy, but I'm thankful to have grown up in an environment that taught me family comes first, hard work pays off, and the value of a dollar. Today, our family farm is home to 380 milking cows and six robotic units, with the capacity to add two more robots.
While I go home often, it is not my full-time job. Currently, I am employed by the Northeast Iowa Dairy Foundation in Calmar, Iowa, and serve as the organization's coordinator. This position allows me to connect with a wide variety of people. I assist with educating students enrolled in agriculture courses at Northeast Iowa Community College (NICC), and also aid in providing continuing educational courses and programming for current producers.
Just as important, I lead consumer education at our facilities, both to tell our story to the public, and ensure them we care for our cows to provide a wholesome and nutritious product. The addition of two robotic milking units has been a tremendous advantage to be able to showcase our facilities to producers and consumers.
Labor an obstacle
The family farm is something I hope to return to one day, but much has changed. Prior to venturing into robotics, labor was a huge obstacle for us – it was extremely difficult to find a reliable, dedicated workforce. At the time, we were milking 270 cows in a 20-year-old double-14 swing parlor, 2X, and spending 10 hours a day in the parlor alone. My Mom and sister did every milking, along with a third, part-time person.
Besides getting the cows milked and fed, and caring for young stock, it was very hard to get a lot of additional work accomplished. The introduction of an AMS was a life-changing experience. We started up on Feb. 11, 2014.
Today, the most common question people ask us is, "What do you do with all of your free time?" We are very quick to explain that we work just as many hours now as we did in the previous system.
The difference is that we are able to accomplish more tasks and focus on areas of the herd that we simply didn't have time to do before. Another big positive for us is flexibility; we don't necessarily have to start chores at 4 a.m. and 4 p.m.
My biggest personal joy has been watching my parents simply be happier. They have worked side-by-side for 32 years and they still love what they do. But the robotic system has allowed them to spend some time away from the farm, together.
Dairy farming isn't easy, but luckily improvements in technology can help to ease some of the strain and allow farmers to spend a little more time with the other big responsibility in their lives – their family.
Contact Megan Kregel at kregelm@nicc.edu or 563-534-9957 ext 107.
For more information on the Northeast Iowa Dairy Foundation, visit www.iowadairycenter.com or www.facebook.com/neiowadairyfoundation.