Farmers Forum writer, Brandy Harrison, recently featured Martin Schouten of Richmond, Ontario who operates nine Lely A4 Astronaut robotic milking systems.
Here's an excerpt from the article.
They've become Lely loyalists, Schouten admits.
"We thought of Lely like Apple — people love them just because and don't always have a good reason. We know now. We're Lely supporters too. We know the job they do on our cows — they're happy, healthy, and milking well."
T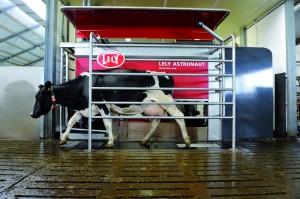 he Schoutens were on the verge of packing it in and resigning themselves to parlor milking.
With their minds made up, the Schoutens swapped out five double-stall robots for nine Lely Astronaut A4s to milk 350 to 360 cows — no itsy-bitsy retrofit.
"We had to do something," says Richmond dairy farmer Martin Schouten. "In hindsight, we wish we'd made the decision quicker."
Read the entire article for more details.