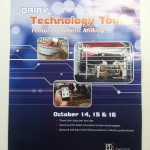 The Professional Dairy Producers of Wisconsin (PDPW) Dairy Technology Tours were held last week in different regions of the state. The farms featured up to eight robot units, including Lely and competitive models. Tour stops also focused on other technologies, such as robotic feed pushers, auto calf feeders, heat technology and the latest technologies affecting the dairy industry.
Macy Sarbacker, Agri-View Dairy Editor, wrote about tour stops including this article on the Dan Rieder and his son Nick who have installed Lely A4 robotic milking systems.
Read this excerpt:
"The whole project took 4 weeks, from start to finish," said Nick Rieder.
The project was the installation of two A4 Lely robotic milkers.
Dan Rieder and his son Nick were looking for relief from milking three-times-a-day.
In June 2013, the family replaced their 10-year-old double-eight herringbone parlor with robotic milkers. Dan, his wife Angie and their family milk 120 Brown Swiss and Holstein cows and farm 600 acres.
The family raises corn for silage, high-moisture shell corn, alfalfa for haylage, dry baled hay and soybeans for roasting and feeding as protein for the milking herd.
The A4 Lely robotic milkers that the Rieders installed record fat and percentage of protein, pounds of milk, conductivity, rumination and activity. These were features desired by Dan and Nick in order to allow Dan more time to devote to his embryo transfer business and Nick more time to focus on farming.
In addition to the robotic milkers, the Rieland Farm also has a robot feed pusher that pushed feed up to the dairy's three-row free stall, sand-bedded barn.
The robot feed pusher pushes up feed every hour, on the hour.
"Pushing feed is the first thing that is given up when a farmer runs out of time, when it really should be the last thing given up," said Justin Segner, Lely representative of southern Wisconsin.
The decision to put in robotic milkers came down to fixing and refurbishing the parlor, or installing robots, said Nick.
Read the entire article.
http://www.agriview.com/news/dairy/pdpw-technology-tour-rieland-farm/article_9510ac91-c955-5e11-a6fc-2b195e7c33d4.html