Happy Halloween! We have a spooky good deal for you...our Lely Red Barn discount promotion has been extended through the end of 2014! Contact your local Lely Center to learn how you can save big on Lely barn products.

How to Qualify for Discounts worth Hundreds, Thousands, Even Tens of Thousands!
Lely Red Barn discounts save you money two ways.
First, with discounts on nine products in three categories.
Second, by multiplying the savings two or three times when you buy products in two or three categories!
Here's how it works.
Select as many products as you like and receive the corresponding discount per product: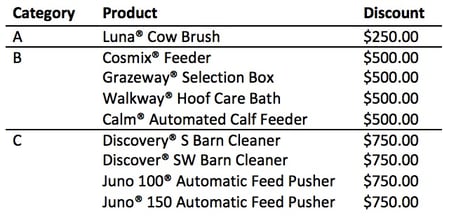 Purchase products from one category and get the indicated discount for each item.
For example two Cosmix feeders from Category b you receive a $500 discount on each, for a total savings of $1000. (2x $500 = $1000)
Purchase products from two Categories and get the indicated discount for each item, TIMES TWO.
Example: Purchase two Luna brushes and one Discovery S barn cleaner. Get a $250 discount for each Luna and a $750 for the Grazeway. Plus, because you've purchased from two categories (A & C), you multiply your discount by two. Here's the math:
2x $250 (Luna brushes from Category A)
+ 1x $750 (Discovery barn cleaner from Category C)
$1250 in discount
x2 because you purchased in two categories
$2500 total discount
Purchase in three categories and multiply your total discount by THREE.
1x $250 (Luna brushes from Category A)
+ 1x $500 (Grazeway selection boxes from Category B)
+ 1x $750 (Juno 100 feed pusher from Category C)
$1,500 in discount
x3 because you purchased in three categories
$4,500 total discount
There's no limit to the amount of discounts you can get under this promotion, so contact your Lely sales rep today.