The Lely Juno automatic feed pusher continuously pushes feed back up to the feed fence, within easy reach of your cows. The cows are not given the opportunity to be selective since an equal quantity of fresh feed is available at the feed fence day and night.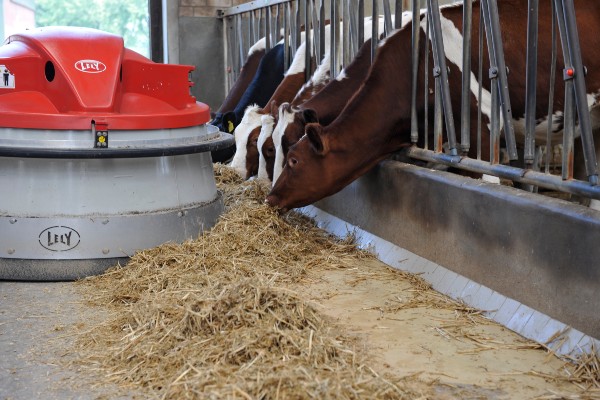 Here are a few of the benefits of a Lely Juno feed pusher:
Constant availability of feed stimulates cow traffic and increases the dry matter intake (+3.5%), especially during the night; in addition, feed residues are reduced.
Fodder pushed up throughout the day improves cow traffic and provides feed around the clock.
When combined with a Lely Astronaut A4 automatic milking system, the Lely Juno feed pusher has proven that it increases the visiting rate to the robot (+ 10.9%), day and night. Increased visits result in higher milk production, especially for lower-ranking cows. In addition, the milking robot is used more efficiently and fewer cows appear on the attention lists.
Due to the regular pattern of the Lely Juno, low-ranking cows can also access fresh feed, after the high-ranking cows have had their fill.
Improved feed intake means a reduction of waste fodder. The Lely Juno also saves on work, fuel, and wear and tear of equipment. The Lely Juno is equipped with an energy-efficient electric motor.