One thing that excites us, here at Lely, is the excitement of a family who has just received their Lely robots from our factory in Pella, IA. On Tuesday, we saw "Farm Barbie's" Facebook post that "The robots are here!"
Back in April, we met Barbara (also known as "Farm Barbie" because of her popular farm blog) and her husband Darrin, as they joined us on a three-day farm and factory tour. They were still in the decision-making process at that point, so we were very excited Tuesday to see they were officially joining our Lely family.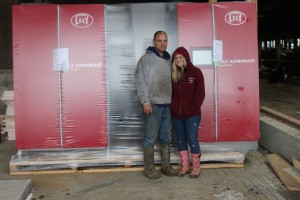 In April, Barbara used her Farm Barbie blog to describe her Lely tour experience. She discussed the equipment, producers, factory, people and culture of Lely. Her detailed explanation and photos to back it up, make for a great read. We encourage you to check out this blog post (and the other she posted yesterday about the robots arriving), and to also check out the Farm Barbie blog in its entirety. This is a great blog for anyone who wants to know more about agriculture, milking robots or is a wife active in the family farm.
In Farm Barbie's words...
"Since the robots were delivered today, I thought I would share a blog I wrote a few months ago, explaining exactly what these robots are:
http://www.farmbarbie.com/prime-land-farm/2014/4/16/lely-tour"
And...
"The Robots Are Here!
http://www.farmbarbie.com/prime-land-farm/2014/10/23/the-robots-are-here