The Professional Dairy Producers of Wisconsin (PDPW) Dairy Technology Tours will visit nine robotic milking farms in three different regions this week, departing at 8:30 a.m. and returning at 5 p.m. each day. The farms will have up to eight robot units, featuring Lely and competitive models. Tour stops also will focus on other technologies, such as robotic feed pushers, auto calf feeders, heat technology and the latest technologies affecting the dairy industry.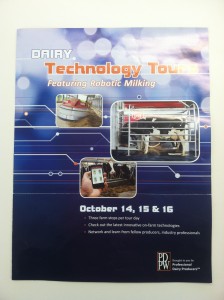 During the tours, you will hear firsthand from dairy producers why they switched to new technology, how it has changed their operations and the technology's impact on management, production and labor.
You can join the tour bus for just one day, two days or all three days. The tour buses will depart from a different location each day. Included in the tour is a full day of tour stops, networking with fellow dairy farmers and industry members, transportation, lunch and refreshments.
The tours are scheduled for October 14, 15 and 16, departing at 8:30 a.m. and returning daily at 5 p.m. Attend one day, two days or all three days:
Tues., Oct.14: Busses board and return to Farm & Fleet (2421 Old Humes Rd., Janesville, Wis.)

Wed., Oct. 15: Busses board and return to PDPW Headquarters (820 N. Main St., Juneau, Wis.)

Thur., Oct. 16: Busses board and return to Stony Creek Inn (Kinney Coulee Rd., Onalaska, Wis.)
The PDPW Dairy Technology Tour is an accredited training program with the University of Wisconsin School of Veterinary Medicine (UW-SVM) and veterinarians may receive up to 9.6 CEUs/day. The tours have also been pre-approved by ARPAS for up to 8 CEUs for all three days. Register here.