Earlier this year, Galen Nolt, owner of Westview Farm in Peach Bottom, PA, installed the first Lely Vector automatic feeding system in the United States. They recently held an open house and Nolt has been featured in an article by Farm Progress.
Below is an excerpt or read the entire article here.
While the 180-cow dairy owned by Galen Nolt and family has a new freestall barn equipped with three robotic milkers, the main attraction to dairy farmers was the automated feeding system. Without human intervention, the Vector builds fresh total mixed rations in up to 1,200-pound batches via centralized controls in the feed room. Then it follows a guidance system to the barns to deliver up to 14 batches in 24 hours.
One big advantage of the Vector is that it gives you more time in the day to do other work, says Nolt. "Before this, we were mixing feed probably at least four hours a day. Now, we don't worry about that. It [the Vector] does it 24 hours a day."
One Vector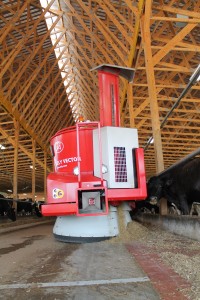 can handle up to 240 cows, according to Rich Peters, Lely Vector sales representative. Two Vectors can be put on one control system.
Sensors on the mobile Vector can "sense" feed left in front of the cows, push remaining feed up, and knows if it has to deliver fresh TMR or move on. Come winter, those same brushes that push feed up can clear snow on its path between the feed room and the barns.
Read the entire article written by John Vogel.