Meet Darren Sanders, Local FMS Advisor
Darren Sanders is a Farm Management Support (FMS) Advisor and sales representative at Lely Center Inbody, Inc., working with dairy producers in eastern Michigan. Darren grew up on a dairy farm, so his experience managing cows allows him the ability to see challenges from the dairy producer's point of view. He has earned certifications as an FMS advisor and service technician from Lely. We asked Darren a few questions about his experience and role as an FMS advisor for Lely.
How did you get involved with robotic milking?
I was raised on a dairy farm and was a herdsman for 10 years, so I've always had a strong interest in the dairy industry. A few years ago, I attended an open house that was being hosted by Lely Center Inbody Inc. I was really impressed with Lely's technology and asked about going to work for Inbody. Since then, I've had the opportunity to work with a lot of producers and Lely robots.
Describe your role as an advisor; what are your main goals and duties?
My main priority is to work with customers and help ensure they are successful when making the switch to robotic milking. Once their operation is up and running, I will continue to work with them to help them reach their goals and maintain their operations.
How much of your time is "on-farm"? Are you in contact remotely, as well?
I spend a lot of time on the farm working with customers. I work very closely with customers during the startup period and continue to make regular visits once their operation is up and going.
Is there anything you would like to share with producers who may be considering robotic milking?
There is a lot of planning that goes into making the switch to robotic milking. I think it's important for farms to do their research and formulate a plan to have the best resources and support for a successful startup. As an FMS advisor, I can work with them through that process and help make the transition go smoothly.
What has been your experience with Lely T4C InHerd?
Lely T4C InHerd management system is a great timesaving tool available to Lely customers. I've been working with customers to help them understand the benefits it provides. It will help producers improve efficiencies and management of their herds.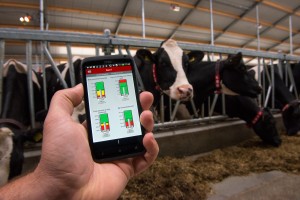 What do you see as the main advantage(s) T4C InHerd will give Lely robot customers? InHerd provides instant information and gives farmers the ability to enter information in the computer system immediately when tasks are performed.
What is your favorite InHerd App and why?
My favorite app is the Cow app. It provides information for all cows and gives farmers the ability to input the task preformed immediately. This saves the time spent going to the main computer to perform the same task.