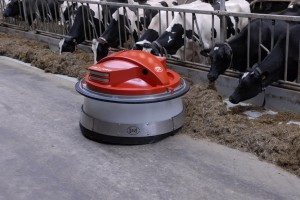 The Lely Juno feed pusher moves along the feeding alley automatically, thereby following the feed fence. When in operation, the machine pushes the feed towards the feed fence without disturbing the cows. Since the Lely Juno is a stand-alone machine, barn modifications are seldom required, and it can be used in almost any type of barn.
Watch the Lely Juno in action here.
Lely Juno benefits include:
• 24-hour operation
• Increased feed intake
• More frequent use of the milking robot
• Improved animal well-being
• Uniform, quality forage available day and night
• A quiet herd
• Labor-savings and flexibility
If you have a Lely Juno, tell us what you love most about it?