Nate Tullar, of Orford, New Hampshire, was recently in a feature by Charlotte Albright of Vermont Public Radio about his dairy farm's conversion to using Lely robotic milking systems.
Read an excerpt of this report.
The technology is cutting down on labor costs, increasing yield and teaching farmers more about the health and productivity of their herds.
Just ask Nate Tullar, of Orford, New Hampshire. Cows have been giving milk at his family's farm, Tullando, since 1956. That's when his grandparents started the dairy business, and they have often been open to innovation over the years. There are now about 450 Holsteins to milk several times a day, plus a lot of calves to move from outdoor nursery pens into stalls.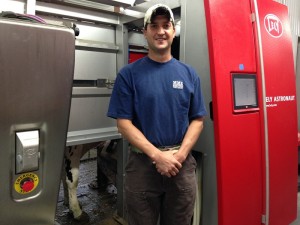 That's pretty labor-intensive. So about two months ago the Tullar family bought four robotic milkers and moved them into the new red barn. Interior fences guide cows to platforms beside the robots—they look like red refrigerators—in the center of the building, as Nate Tullar looks on.
In a robotic parlor, the cows, not the farmer, decide when they need to be milked.
Read and hear more by clicking here.