The best start for your calves includes a Lely Calm Automatic Calf Feeder.
When a calf drinks from its mother, it usually drinks adequate portions spread over the day. In today's dairy industry, however, when a calf is fed manually, it's restricted to once or twice a day. That's why Lely introduced the Calm automatic calf feeder. It supplies the correct portion and concentration of feed throughout the day, resembling the natural behavior of the calf.
The Calm not only offers calves an outstanding start, it also provides labor savings and many economic benefits. The accurate and small portions spread throughout the day substantially enhances the development of the digestive organs of the calf, paying for itself by means of healthier calves, increased growth, increased feed efficiency and labor savings.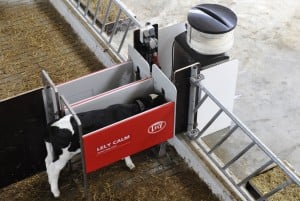 How Does it Work?
As soon as a calf enters a milk station, it's recognized by its electronic transponder and, according to the calf's feeding plan, the Lely Calm calf feeder decides if it's allowed to drink, and how much. Once a minimum and maximum portion of milk per visit is set for each calf, the calf feeder will automatically determine the ration per calf. If the calf is allowed to drink, the calf feeder immediately prepares a fresh portion of milk at the predetermined temperature. Watch this video to see the Lely Calm in action.
Learn More
Our team is always happy to talk with you about Lely's Calm automatic calf feeder, so let us know if you'd like to learn more by commenting below or sending an email to lelydairylife@gmail.com.
We look forward to hearing from you!