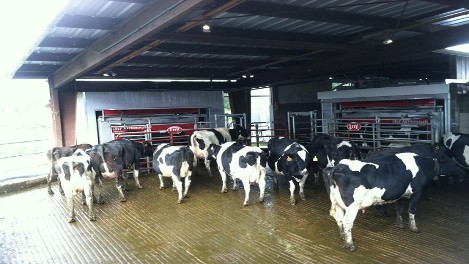 The Burkhalter Family Organic Dairy in Rosburg, Wash., was featured this week by Nick Nikkila of the Chinook Observer. The Bukhalters are using Lely Astronaut A4 automatic milking systems. Read an excerpt below and read more by clicking here.
Robots take on milking job at Burkhalter dairy
By NICK NIKKILA
Observer correspondent
A visit to the Burkhalter's Organic Valley dairy farm in Rosburg is an eye-opening and jaw-dropping experience. Employing a robotic system developed by the Dutch agricultural equipment development company Lely International, the Burkhalters' dairy cattle are fed, their udders and teats sanitized and milked without any required human contact. This is a far cry from the historical image — sitting on a three-legged wooden stool and employing the manual squeeze-pull method to squirt milk into a bucket and, occasionally, the barn cat's mouth.