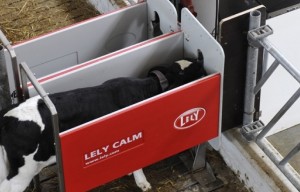 Making the switch to automated calf feeding has not only proven benefits to calves, but to calf managers as well. Knigge Farms, located in Omro, WI, is owned and operated by Pete and Theo Knigge, their son, Charlie and his son, Jacob. The family operation includes 600 acres of cropland, 120 milking cows and 150 young stock with 30 calves on milk.
The family made the switch to automatic calf feeding by implementing a Lely Calm automatic calf feeder with two stalls. In the two years the automatic calf feeder has been in use, improved health has been the number one benefit to calves on the farm.
"The second largest benefit is the size of calves weaned," said Charlie. "It has just been dramatic how vigorous, healthy and large the calves are, coming out of the automated feeding system."
Another benefit is how much easier the automated feeding is on the person feeding the calves. Additionally, the calf mortality rate on the farm has significantly decreased.
The post "Making the Switch to Automated Calf Feeding" appeared first in CowManagement magazine.