How Lely's Farm Management Support can help you achieve your goals
The beauty of partnering with Lely in a robotic milking venture is we appreciate the fact that no two dairies will ever be exactly the same. The breed or herd size may vary, but more importantly, producers' goals are different. Lely recognized this need for customization early on, and decided to build a Farm Management Support (FMS) team, as a result. The FMS team's goal is to provide one-on-one support, tailored to that specific operation, before, during and after robot installation.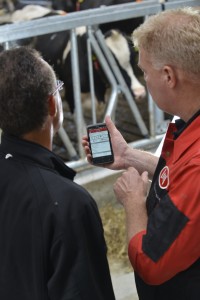 Lely keeps it local
Many companies have two or three experts that represent their company in a similar farm support capacity. This support is not practical. What good is the knowledge if only a few people have it? Lely's FMS system is structured to train individuals at the Lely Center level (Lely dealerships) to provide producers local support. These trainings occur throughout the year, and several are offered so local FMS advisors may grow their knowledge from what they learned in the previous course. These are formalized training sessions taught by Lely's very own Senior Farm Management Support team, who is highly experienced in herd health, nutrition, reproduction, rumination, per-cow management through Lely's T4C herd management software, cow flow, the "lean" concept and much more.
How Lely FMS works for you
Lely's local FMS advisors work with customers to lay out a program three months before startup and throughout the first year, making several visits and providing assessments and conducting webinars until the farmer is comfortable to run the herd and robots.
Throughout that process, local FMS advisors will provide ongoing support in the following areas:
Best practices to maximize milk production, reproduction and overall profitability.

FMS will help producers learn to use the Lely T4C management system in daily business. In addition, FMS advisors will help customize Lely T4C InHerd to the farm to get the maximum benefit from this unique herd management tool.

When the time of the initial milking comes, advisors will explain the protocol, and will build a customized plan that covers how to create different groups in the barn and how to organize staffing. The FMS advisor will be on-farm to assist during the move to robotic milking to help train cows for the quickest transition possible.

FMS advisors will provide guidance for daily routines that need to be adapted or changed. A tailored plan will be made according to each producer's barn layout and logistics.

Besides start-up support, FMS advisors are trained to assist in pinpointing improvements that can be made on farm to maximize herd efficiencies.