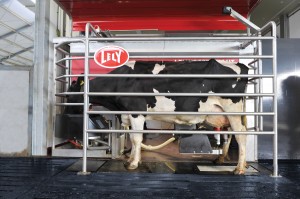 If you've been thinking about getting into robotic milking or expanding your operation, now is a great time to check out the Lely Astronaut A4 robotic milking system!
We are currently running a "Summer Celebration" promotion. For every robot you order between June 2, 2014 and August 31, 2014 and delivered in 2014, you will receive a FREE Gravitor Stainless Steel Weigh Floor.
Additionally, you can also select one of the following for each
robot ordered:
FREE M4Use wall mounted system – for easy and accurate milk separation
FREE I-Flow selection gate including Texas gate – for easy management of cow flow
FREE MQC-C2 – for accurate monitoring of milk quality (not available in the US)
FREE box of 10 Heatime H or HR IR tags – accurate monitoring of cow activity and health
Contact your local Lely Center with any questions!