World Dairy Expo has announce this year's Virtual Farm Tours.
Lely is proud to be a sponsor of the World Dairy Expo Virtual Farm Tour yet again! This year's tour will spotlight Lely "family members" of Lepples' Ridge-View Farm, Inc. of Beaver Dam, Wisconsin.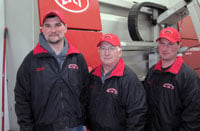 As Joel and Jean Lepple brought their sons, Craig and Brent, into the family dairy business, they knew their milking equipment was either due for replacement or upgrading. During this time, the family decided to transition to robotics by installing two Lely Astronaut robotic milking machines. Cows are fed a partially mixed ration (PMR) when they enter the robots; which ensures that cows adjust. With the addition of the robots came the necessity to build a freestall barn, which features an elevated ceiling as well as waterbeds for increased cow comfort.
The Lepple family has learned a lot in the past three years, including the importance of teat placement. Currently, 130 cows are milked an average of 3.1 times per day averaging 85 pounds of milk per cow per day. With robots taking care of the daily milking, this allows the Lepples' to better manage their dairy through automatic monitoring of milk quality and cow activity. It has also brought freedom and flexibility to the family.
You can catch up with the Lepples on Thursday, October 2 at 2 p.m. in the Mendota 1 meeting room in the Exhibition Hall at World Dairy Expo. The presentations will be available for viewing on World Dairy Expo's website after the show.
If you can't wait until October, check out last year's session with Cinnamon Ridge Farms.