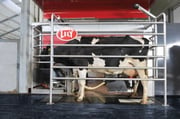 In the preparation phase for robotic milking it is recommended to visit several farms of the same size and with the same type of barn, in order to get a good picture of the way robotic milking works and what it involves in terms of farm management. The experience of fellow dairy farmers is an important help in introducing the milking robot successfully into the farming process.
A well thought out (written) strategy is essential in the entire preparation phase: it will consist of a housing plan; a detailed plan on daily, weekly and monthly work routines; cow routines as well as farmer routines.
The entire project should fit into a long-term strategy, so every step should be thoroughly evaluated: where will you treat cows, dry off cows, etc.