Over 700 people attended the Northeast Iowa Community College (NICC) Open Barn on March 27, and Lely advisors were on standby to answer their questions. The event was held in celebration of the college's new robotic milking center located on the NICC campus in Calmar, IA.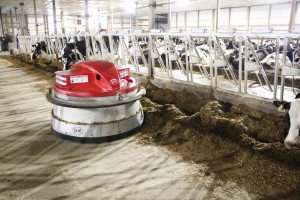 A ribbon-cutting ceremony was held during the event to mark the official opening of the new facility, which is outfitted with two Lely Astronaut A4 robots, one Juno automatic feed pusher, one Discovery mobile barn cleaner and several Luna cow brushes. Additionally, a set of Lely books, 20 Years of Robotic Milking, were donated to the program for student use.
The new robotic milkers were installed by Lely Center, Fitzgerald Inc., located in Elkader, IA. Lely is honored to contribute to the education of the next generation of dairy producers and educators. The NICC facility will be used to teach students, consumers, youth and local dairy producers about advancements in dairy science.
Check out the slideshow to get a glimpse of the new facility and see highlights from the event.