We asked you to send us heartwarming and fun photos of your family and your operation for the #LelyLife Photo Contest. We received a lot of great photos in March and are please to announce the winners for the month.
And the March 2014 winners are: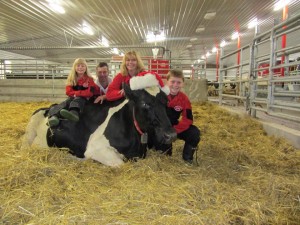 Mason Farms Ltd., Oak Point, Manitoba, Canada.
"This was one of our Christmas pictures we had taken in our new barn this past Christmas!" - Lanna Mason
Ferme Courlin Inc., St-Ephrem de Beauce, Quebec, Canada.
"Our pretty little heifers in our nursery. We have a Lely Calm with two feeding stations. We just love our Lely Calm. And so do our little heifers!" - Luce Morin
The #LelyLife contest will run through August 2014. Submissions are currently being accepted via Facebook, Twitter and through email to lelydairylife@gmail.com.
Winners will receive a free Lely stocking cap and be published in the 2015 Lely North America calendar.