Lely knows just how important your family is to you, and we feel the same about our own. Live Life Lely is not only a slogan; it is a lifestyle we wish for our customers and also for ourselves. We realize our business can only grow if our people grow; we encourage our people to go that extra mile, supporting them with professional and personal development. It is with the hard work and support of these men and women that Lely has been able to continue to innovate throughout the years. Hear directly from our team about their role in your robotic milking operation: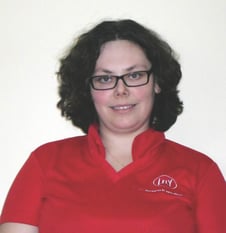 Sara McBurney — Farm Management Support, Lely North America
Sara McBurney joined Lely in August 2011. Today, as a part of the FMS team, she works to support and train customers and industry people before, during and after they transition into robotic milking. "I love working with all the different people and supporting them during a really exciting transition into robotic milking," said Sara. "Knowing that Lely is so focused on innovation and developments to make families' lives better means that we're never going to stop moving forward; there's always going to be new and exciting things on the horizon."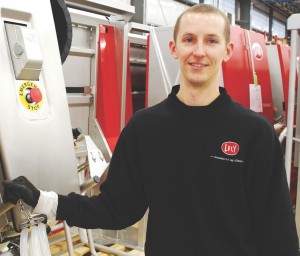 Jordan Roose — Assembler , Lely Operations Pella
Jordan Roose joined the Lely assembly team, located in Pella, IA, in 2012. Today he assembles robots with a focus on the wiring of the junction box, SPC box and mothership box. Additionally, he works on the assembly of central units and manages the overstock inventory on parts shelves. "I appreciate the fact that my position has allowed me to learn the function and build of a high-tech machine," said Jordan. "Since I came from a farming background, it is intriguing for me to be involved in the process of building a cutting-edge agricultural product." Jordan also said that he enjoys seeing the efforts made by Lely to bring the company and customer together through events such as factory tours, farm tours and other efforts.
Reid Balzer — Feed and Barn Product Specialist, Lely North America
Reid Balzer joined the Lely team in 2012. Today, as a Feed and Barn Product Specialist, he is responsible for the technical support of the feed and barn products, which include: Lely Juno, Discovery, Calm Calf Feeder and the Vector. He is also responsible for dealer and product development. "Lely is always trying to improve its products, so the feedback I give can have a part in a new product or an improvement to an old product," said Reid. "Lely has been a great company to work for, and the thing that I enjoy most is the core values they uphold to make the best product they can so the farmer can produce the best product possible while having quality of life. It's always a great feeling when you can help ensure a family farm will stay in operation for many years to come."