On this Wordless Wednesday we share some Canadian pride! This Lely robot was inspired by Luke Geleynse, co-owner of Dundas Agri Systems.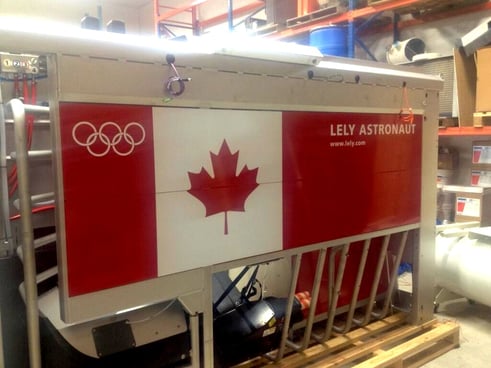 "We as Canadians are coming off the high of the medal run in the 2014 Olympics. Especially when it came to the Canadian Women and Canadian Men hockey teams, who both won Gold. Hockey is Canada's self-proclaimed national sport and we found that it became natural to use all that red space on the Astronaut to pay tribute to our national Olympic heros. Besides no other robot company would be able to provide such an option that correctly matches the Canadian flag colors!" - Levi Dejong, Lely Center East, Dundas Agri Systems
Have a photo you would like to submit a photo for Wordless Wednesday? Email it to lelydairylife@gmail.com and you will see your photo on LelyLife.com.
If you're not familiar with this blogosphere phenomenon, About.com, describes Wordless Wednesday as, "a simple blog post featuring a photo which conveys a message that speaks for itself without using words."