The dairy industry is a tireless one and Lely understands the value of your time. That is why we have put together a monthly newsletter, highlighting content from Lelylife.com, which will include: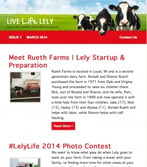 Lely news
Information about farms currently using Lely
Upcoming events, open houses and trade shows
Testimonials
Farming tips and tricks
And more!
To receive this newsletter, visit http://www.lelylife.com/ and enter your information on the right side of the Home page.
Lely is pleased to offer a new option for receiving content from Lelylife.com, making it easier for you to stay connected! For questions, or to receive more information, please email lelydairylife@gmail.com.