Essex Junction, Vermont — (January 2014) — Lely Center Vermont will attend the 2014 Vermont Farm Show next week, in Essex Junction, VT. Visit booth #192-199 to learn more about the Lely Astronaut A4 robotic milking system as well as other Lely innovations, including automatic feeding systems and mobile barn cleaners. Lely Center Vermont is part of Lely's exclusive Lely Center Distribution Channel in North America. The Lely Center is committed to sell and service the complete line of Lely's dairy equipment products throughout the East Coast. They are market leaders and determined to improve the financial and social well-being of their customers.
"Lely Center Vermont is dedicated to providing producers with easy access to valuable information on robotic milking and the future of farming," said Peter Langebeeke, president of Lely North America. "We encourage you to visit the Lely booth at the Vermont Farm Show this year, where you can receive first-hand answers to the questions that apply to your operation."
Since introducing the world's first milking system more than 20 years ago, Lely has installed over 15,000 Astronaut robotic milking units worldwide and is the undisputed world leader in robotic milking technology.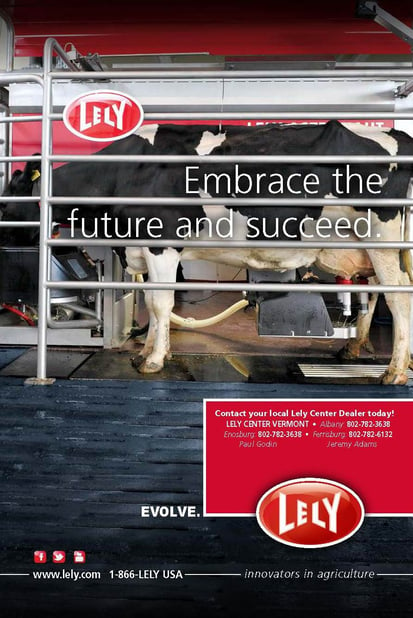 Event Information
What:
Vermont Farm Show
When:
Tuesday, Jan. 28, 9 a.m. – 5 p.m.
Wednesday, Jan. 29, 9 a.m. – 7 p.m.
Thursday, Jan. 30, 9 a.m. – 4 p.m.
Where:
Champlain Valley Exposition
105 Pearl St. Essex Junction, VT 05452
More Info:
For more information, contact Paul Godin at 802-782-3638.
Click here to visit the Vermont Farm Show website and download the official 2014 Guide.